DNA capture and next-generation sequencing can recover whole mitochondrial genomes from highly degraded samples for human identification
Investigative Genetics
2013
4:26
Received: 19 July 2013
Accepted: 18 October 2013
Published: 2 December 2013
Abstract
Background
Mitochondrial DNA (mtDNA) typing can be a useful aid for identifying people from compromised samples when nuclear DNA is too damaged, degraded or below detection thresholds for routine short tandem repeat (STR)-based analysis. Standard mtDNA typing, focused on PCR amplicon sequencing of the control region (HVS I and HVS II), is limited by the resolving power of this short sequence, which misses up to 70% of the variation present in the mtDNA genome.
Methods
We used in-solution hybridisation-based DNA capture (using DNA capture probes prepared from modern human mtDNA) to recover mtDNA from post-mortem human remains in which the majority of DNA is both highly fragmented (<100 base pairs in length) and chemically damaged. The method 'immortalises' the finite quantities of DNA in valuable extracts as DNA libraries, which is followed by the targeted enrichment of endogenous mtDNA sequences and characterisation by next-generation sequencing (NGS).
Results
We sequenced whole mitochondrial genomes for human identification from samples where standard nuclear STR typing produced only partial profiles or demonstrably failed and/or where standard mtDNA hypervariable region sequences lacked resolving power. Multiple rounds of enrichment can substantially improve coverage and sequencing depth of mtDNA genomes from highly degraded samples. The application of this method has led to the reliable mitochondrial sequencing of human skeletal remains from unidentified World War Two (WWII) casualties approximately 70 years old and from archaeological remains (up to 2,500 years old).
Conclusions
This approach has potential applications in forensic science, historical human identification cases, archived medical samples, kinship analysis and population studies. In particular the methodology can be applied to any case, involving human or non-human species, where whole mitochondrial genome sequences are required to provide the highest level of maternal lineage discrimination. Multiple rounds of in-solution hybridisation-based DNA capture can retrieve whole mitochondrial genome sequences from even the most challenging samples.
Keywords
Mitochondrial DNADegraded DNAAncient DNADNA hybridisationDNA enrichmentForensic scienceNext-generation sequencing
Background
Nuclear DNA short tandem repeat (STR) profiling is currently the preferred method for human identification in forensic practice [1]. However, analysis of low copy number (LCN) and highly damaged or degraded DNA from trace sources or poorly preserved human remains is challenging due to stochastic effects and can often fail completely [2]. Typical complications observed in the analysis of trace amounts of DNA include issues with contamination, amplification failure (allele and locus dropout) [3], preferential amplification of shorter amplicons [4] and artefacts (enzymatic stutter, allele drop-in and off-ladder peaks). Complete amplification failure can be due to PCR inhibition or the fragmentation of all DNA templates below target amplicon sizes, which generally range from 100 to 400 base pairs (bp) [5]. Another complication – 'jumping PCR' – can generate non-authentic chimeric amplicons from discrete DNA template molecules, particularly when DNA fragmentation levels are high [6, 7]. Additionally, chemical DNA modification due to miscoding lesions can terminate amplification reactions by halting DNA polymerase extension [7]. A combination of all these factors can lead to a poor or misleading DNA profile, or no profile at all in extreme cases.
The development and optimisation of nuclear SNP (single nucleotide polymorphism) typing protocols, shorter amplicon commercial STR kits (mini-STRs) [8], optimisation of PCR conditions, capillary electrophoresis and statistical interpretation techniques [9] have improved standard profiling methods [10–12]. However, in spite of these developments, the STR profiling of degraded, low-template DNA often has limited success. Furthermore, a large number of nuclear SNPs are required (50 to 80 loci) to obtain a similar level of discrimination as a full nuclear 16-loci STR profile [13]. In these cases, genetic identification from degraded samples may succeed through the analysis of mitochondrial DNA (mtDNA).
Mitochondrial DNA has several features that can make it a useful marker for human identification. As there can be thousands of copies of the mitochondrial genome in many cells (compared to only two copies for autosomal nuclear DNA), mtDNA typing is well suited to biological specimens where DNA fragmentation has occurred or the total DNA copy numbers are naturally low or have been severely reduced through post-mortem damage and degradation [14]. Suitable materials include bones, teeth, hair shafts, faeces and other biological materials. The lack of recombination events in the mtDNA genome and strict uniparental inheritance, in contrast to the nuclear genome, can allow maternal relatives separated by several generations to serve as reference samples. This latter feature is particularly beneficial in missing-person identification, where suitable ante-mortem or family reference samples may be unavailable.
Standard PCR-based sequencing approaches for mitochondrial hypervariable regions I and II (HVS I and II) typically amplify 2 to 12 overlapping fragments of approximately 150 bp to 600 bp in length [15–18] but are labour intensive, consume significant amounts of valuable DNA extract and can be template-length dependent and costly. Repeated singleplex PCR amplifications also bring an increased risk of contamination with exogenous human DNA due to the multiple lab steps required. Multiplex PCR amplification could in theory provide a solution for medium-sized PCR target fragments but still require hundreds of overlapping amplicons [1] in cases where whole mitochondrial genome sequences are needed for high-resolution identification.
Another disadvantage of typing just the mitochondrial HVS I/II is that short sequences from this single locus are far less powerful for identification purposes than a full multi-locus STR profile [19]. This can become a significant problem when many individuals in a population share a common haplogroup, such as the >40% of Western Europeans who belong to mitochondrial haplogroup H, or when distantly related individuals share a maternal ancestry that may not be known [20]. Recent studies sequencing whole mitochondrial genomes have shown that >70% of the mtDNA variation can be located outside HVS I/II for some haplogroups [21], so that full mitochondrial genome sequences provide far greater resolving power for human identification [22, 23].
Ancient DNA studies of human archaeological samples routinely generate complete mitochondrial genomes via DNA hybridisation-based enrichment of mtDNA target sequences [21, 24–26], and the creation of barcoded/indexed DNA libraries, followed by next-generation sequencing (NGS). Multiple samples can be processed in parallel in a high-throughput fashion [25], greatly reducing processing contamination risks, labour and costs compared to traditional Sanger sequencing approaches. These kinds of DNA capture strategies generally rely on the hybridisation of target DNA sequences to probes that are either immobilised on a surface (such as a microarray) or in solution [27, 28]. Despite the significant potential of these new approaches, they have not been applied or examined in a forensic context for human identification.
The aim of this study was to sequence whole mitochondrial genomes from a range of human skeletal samples (in this case ranging from 10 to 2,500 years old) at an affordable cost using standard laboratory equipment and home-made DNA-capture probes for use in hybridisation-based target enrichment (Figure
1
). Our previous application of this method [
21
] used three rounds of in-solution capture-based enrichment so we also aimed to explore the efficacy of using one or two rounds of enrichment to reduce costs and improve workflows. We deliberately used samples that had previously failed or had the potential to fail nuclear STR typing (Table
1
). STR profiling was predominantly performed to assess the likelihood of obtaining full STR profiles from degraded samples and not to identify the samples. To identify the samples would require reference profiles for comparison and replicate testing of the samples by LCN analyses. The capture-probe method is designed to focus on the recovery of human mtDNA fragments <100 bp in length (with the vast majority in the 20 to 70 bp range) (Figure
2
), from samples that yield highly damaged and fragmented DNA templates available only with low copy number. We anticipate the method will be useful for samples that cannot be typed successfully using standard STR kits and for detecting key or private SNPs within whole mitochondrial genome sequences (that would otherwise remain undetected with traditional mtDNA HVS I/II sequencing) for human identification.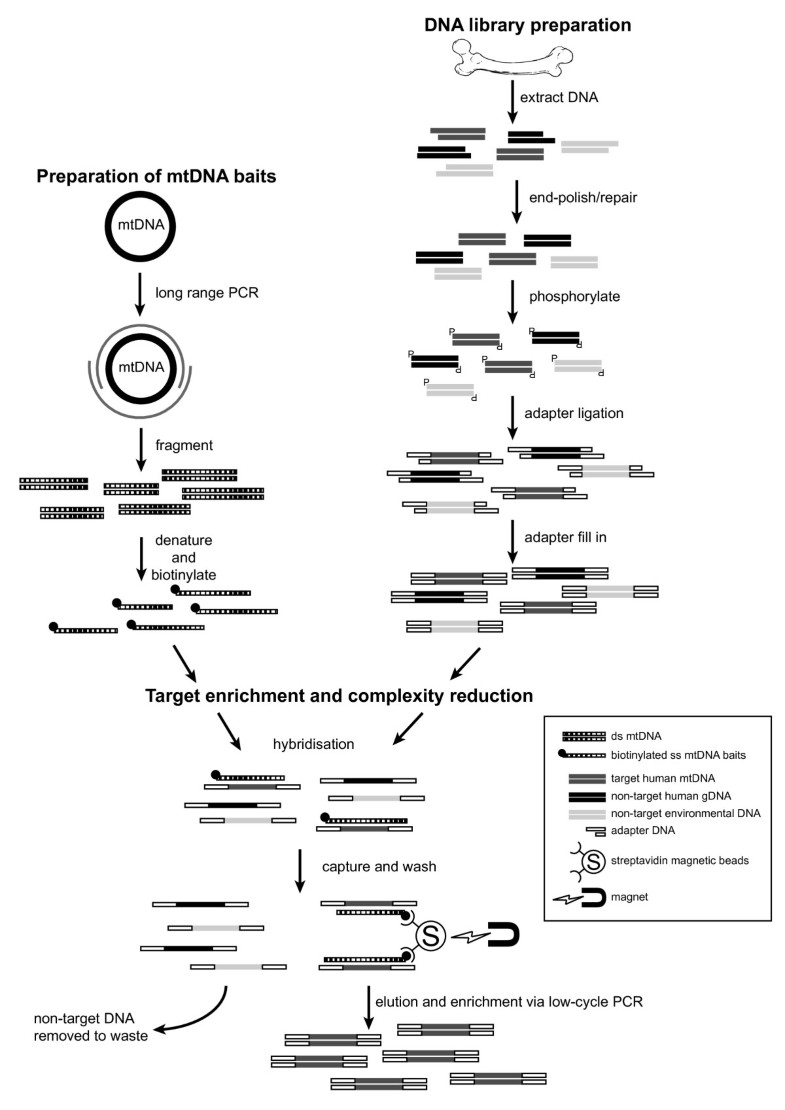 Table 1
Samples used in this study
| ACAD ID | Description | Age | Excavated | Locality | Environmental conditions of site | Preservation status on collection |
| --- | --- | --- | --- | --- | --- | --- |
| 8727C | Cranium fragment | Approximately 10 years | Unknown | South-east Queensland, Australia | Surface deposit | Well preserved |
| 11995A | Long bone fragment | Approximately 70 years | 2011 | Papua New Guinea | Tropical lowland battlefield, wet | Poor |
| 9210A | Tooth | Approximately 70 years | 2006 | Christmas Island, Australia | Tropical lowland, burial, wet | Well preserved |
| 4464B | Long bone fragment | Approximately 2500 years (Iron Age) | 2007 | Latsch, South Tyrol, Italy | Temperate, burial | Well preserved |
| 10730A | Long bone fragment | Approximately 600 to 1,000 years (Ychsma culture) | 2002 | Huaca Pucllana, Lima, Peru | Temperate, high altitude, burial | Well preserved |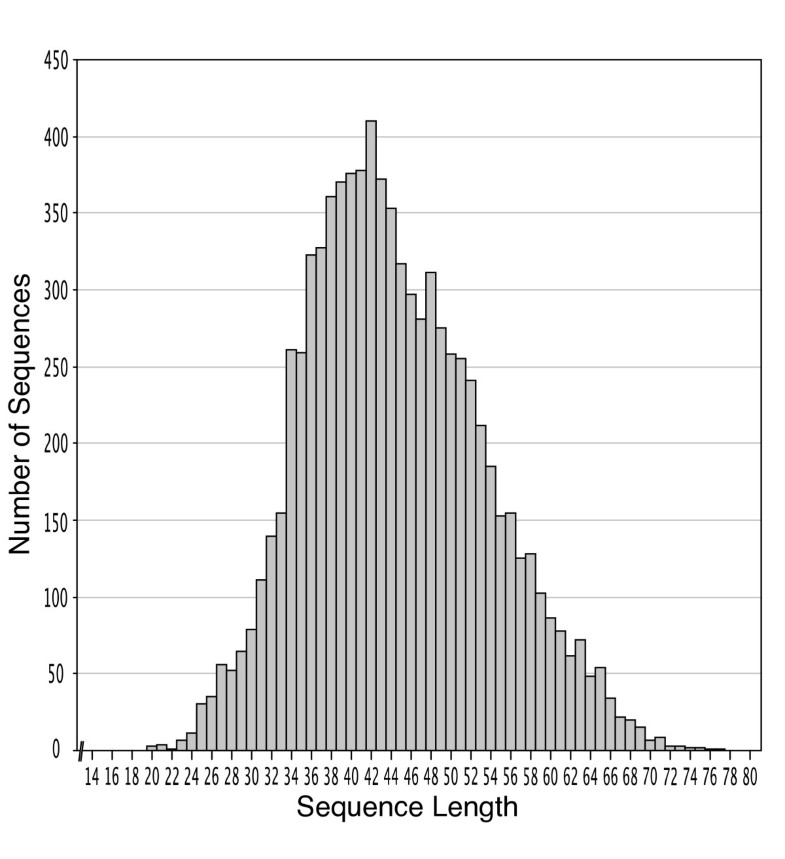 Results
Coverage was uneven across all five samples after one and two rounds of enrichment (Additional file 1: Figure S1). This variation in coverage has been reported previously for modern and ancient human and Neanderthal mtDNA genomes [5, 24, 44–46] and is positively correlated with GC content. This may be due to loss (denaturation) of short AT-rich sequences before or during the library preparation [5, 46].
Damage patterns in all samples followed expectations for degraded DNA, with a larger than usual amount of deaminated cytosine residues accumulated towards the ends of the molecules. In addition, we could observe a high frequency of indels, a well-identified homopolymer sequencing error characteristic of PGM technology [47–50]. However, indels were randomly distributed and did not affect the final consensus sequences, as each called position was covered with enough depth to prevent false-positive base calls.
Discussion
Low amounts of DNA combined with high levels of damage and fragmentation make STR typing of degraded samples challenging. DNA capture coupled with next-generation sequencing can retrieve whole mitochondrial genome sequences from degraded samples when nuclear DNA is below detection levels. Despite high levels of DNA decay in skeletal remains, whole mtDNA genome sequencing is possible due to the copy-number advantage and reduced rate of fragmentation of mtDNA (compared with nuclear DNA) combined with the ability to capture and sequence DNA fragments in the 20 bp to 70 bp range. Quantitative PCR can be used to determine the amount of DNA available from extracted materials and will indicate the likelihood of obtaining a nuclear STR-DNA profile from a degraded sample. This is of particular importance in cases where total nuclear DNA quantity is <100 pg, which reduces the likelihood of obtaining a full nuclear STR DNA profile even when applying LCN techniques. In contrast, near complete mitochondrial genome sequences can be obtained with a single round of enrichment from samples with >10,000 77 bp mtDNA copies/μL and with two rounds of enrichment from samples with <3,000 77 bp mtDNA copies/μL. Our work builds on previous in-solution capture-based enrichment methodologies [21, 24–26] and demonstrates the importance of using multiple rounds of enrichment to improve mtDNA genome recovery from samples with low amounts of endogenous DNA. Repeating the enrichment process on samples with very low amounts of mtDNA can more than double the number of unique reads and average coverage, and substantially improve the overall coverage of the mtDNA genome (Additional file 1: Figure S1). The methodology has the ability to capture DNA templates that are damaged and fragmented (<100 bp in length) (Figure 2) and that are generally difficult to recover using traditional methods of PCR-based amplification and sequencing [51]. This is of particular importance in cases where DNA has been exposed to prolonged heat, moisture, ultraviolet light and microbial attack, which generally results in template fragmentation (in extreme cases there can be no surviving endogenous DNA templates >100 bp) [52].
Two common concerns with mitochondrial DNA testing can be eliminated or reduced using this whole mtDNA genome sequencing approach. Traditional HVS I/II sequencing requires 2 to 12 separate PCR amplifications and up to 24 separate DNA sequencing reactions. This multi-tube, multi-step approach introduces the potential for sample mix-up during laboratory processing and increases the risk of introducing contaminating DNA. Our whole mtDNA genome approach eliminates this risk, massively reducing opportunities for sample mix-up, while the barcoded adapters ligated to the DNA provide an additional means to eliminate (or identify and screen out) contamination introduced in later steps. In addition, barcoding allows many samples to be pooled for high-throughput screening efforts and can reduce the cost of sequencing.
DNA capture and related approaches have been shown to give preferential enrichment of short endogenous DNA templates over longer exogenous contaminant DNA in a sample [7]. This is particularly important where small quantities of endogenous DNA in a sample have become saturated by larger quantities of exogenous contamination (human and microbial), consequently leading to poor PCR amplification, mistyping of target loci via artefacts or even complete PCR amplification failure [1].
Traditional forensic and archaeogenetic studies using mtDNA have relied on HVS I/II sequencing. However, this relatively short sequence has limited resolving power and can fail to discriminate between distinct maternal lineages [20]. Outside the control region, coding region SNPs provide additional resolution and discriminatory power [20, 53]. To date, this additional information has been obtained via case [20, 54], region [55, 56], continental [57] or haplogroup [58] specific SNP multiplex assays. In contrast, our whole mtDNA genome sequencing approach is a universal solution for obtaining high-resolution mtDNA data, which can discriminate between closely related maternal lineages. However, although our methodology provides a mechanism to generate whole mtDNA genome sequences from difficult and degraded samples, there is a clear need for the parallel development of high-quality mitochondrial genome databases [20, 53].
Complete mitochondrial genomes sequences can aid human identification efforts by placing an individual into specific haplotypes based on private SNPs. This high-resolution discrimination can be used to include or exclude closely related maternal lineages [21], especially in populations with high frequencies of particular haplotypes. By resorting to whole mtDNA sequencing, we were able to gain additional haplogroup and haplotype resolution relative to traditional HVS I/II sequencing. This information has already proved critical in a comparison with maternal relatives in a case where the HVS I/II sequence alone could not exclude a maternal relationship. Our approach could assist large-scale identification efforts when more comprehensive mtDNA reference databases become available to the forensic community.
Validation studies have confirmed that mtDNA typing is a reliable means of forensic identification [59]. However, a worldwidewide effort will be required with labs collaborating and producing large databases, estimating the frequency of particular mtDNA haplotypes and improving the statistical basis of the databases. In the meantime, techniques used to sequence whole mtDNA in archaeological and population studies will continue to advance at a rapid pace.
Conclusions
In-solution capture-based whole mitochondrial genome sequencing immortalises the limited and important contents of the DNA extract in the form of a DNA library, and is followed by targeted enrichment of mtDNA sequences. The application of these methods using hybridisation enrichment and NGS has led to the reliable genotyping of human remains for which standard nuclear PCR protocols had been unsuccessful. This result indicates that the technique can be applied to obtain whole mitochondrial genomes even from particularly challenging samples. Additionally, as NGS platforms become more affordable and widely available and with the advent of DNA library, barcoding (to monitor contamination and allow multiple samples to be processed), new methods for mtDNA analysis should be considered.
Abbreviations
ACAD:

Australian Centre for Ancient DNA
bp:

base pair
HVS:

Hypervariable region
ISP:

Ion sphere particle
kb:

kilobase
LCN:

Low copy number
mtDNA:

mitochondrial DNA
NGS:

Next-generation sequencing
PCR:

Polymerase chain reaction
PGM:

Personal Genome Machine
qPCR:

quantitative PCR
RFU:

Relative fluorescence units
SSC:

Saline sodium citrate
SDS:

Sodium dodecyl sulphate
SNP:

Single nucleotide polymorphism
STR:

Short tandem repeat.
Declarations
Acknowledgments
We thank the Queensland Police, Australian Navy and the Unrecovered War Casualties – Army (Australian Defence Force) for permission to use samples. Members of the Australian Centre for Ancient DNA, in particular Dr Denice Higgins, provided helpful and constructive comments on the research and manuscript. We thank Dr Hubert Steiner, Dr Isabel Flores Espinoza and Mrs Maria Ines Barreto for providing archaeological samples. Additional thanks to Professor Jeremy Timmis, Rosalie Kenyon, Dr Mark Van der Hoek, Dr Paul Gooding, Dr Steve Richards and Dr Hugh Cross for technical support. This research was funded by an Australian Research Council Linkage project to AC (LP0822622), an ARC Future Fellowship to JA (FT100100108) and an ARC Discovery Project to WH and BL (DP1095782).
Authors' Affiliations
(1)
School of Earth and Environmental Sciences, Australian Centre for Ancient DNA,The University of Adelaide, Adelaide, Australia
(2)
School of Biological Sciences, Flinders University, Adelaide, Australia
(3)
Archaeogenetics Research Group, School of Applied Sciences, University of Huddersfield,Queensgate, Huddersfield HD1 3DH, UK
(4)
Sciences Department, Museum Victoria, Melbourne,Vic, Australia
Copyright
© Templeton et al.; licensee BioMed Central Ltd. 2013
This article is published under license to BioMed Central Ltd. This is an open access article distributed under the terms of the Creative Commons Attribution License (http://creativecommons.org/licenses/by/2.0), which permits unrestricted use, distribution, and reproduction in any medium, provided the original work is properly cited.