Early modern human dispersal from Africa: genomic evidence for multiple waves of migration
Investigative Genetics
2015
6:13
Received: 2 July 2015
Accepted: 27 October 2015
Published: 6 November 2015
Abstract
Background
Anthropological and genetic data agree in indicating the African continent as the main place of origin for anatomically modern humans. However, it is unclear whether early modern humans left Africa through a single, major process, dispersing simultaneously over Asia and Europe, or in two main waves, first through the Arab Peninsula into southern Asia and Oceania, and later through a northern route crossing the Levant.
Results
Here, we show that accurate genomic estimates of the divergence times between European and African populations are more recent than those between Australo-Melanesia and Africa and incompatible with the effects of a single dispersal. This difference cannot possibly be accounted for by the effects of either hybridization with archaic human forms in Australo-Melanesia or back migration from Europe into Africa. Furthermore, in several populations of Asia we found evidence for relatively recent genetic admixture events, which could have obscured the signatures of the earliest processes.
Conclusions
We conclude that the hypothesis of a single major human dispersal from Africa appears hardly compatible with the observed historical and geographical patterns of genome diversity and that Australo-Melanesian populations seem still to retain a genomic signature of a more ancient divergence from Africa
Keywords
Human demographic historyMigrationEvolutionary divergenceAdmixtureLinkage disequilibriumPopulation structure
Background
Anatomically modern humans (AMH), defined by a lightly built skeleton, large brain, reduced face, and prominent chin, first appear in the East African fossil record around 200,000 years ago [1, 2]. There is a general consensus that, while dispersing from there, they largely replaced preexisting archaic human forms [3]. Recent DNA studies also suggest that the replacement was not complete, and there was a limited, but nonzero, interbreeding with Neandertals [4], Denisovans [5], and perhaps other African forms still unidentified at the fossil level [6, 7]. As a result, modern populations might differ in the amount of archaic genes incorporated in their gene pool, which are eventually expressed and may result in phenotypic differences affecting, for example, the immune response [8] or lipid catabolism [9].
Although the general picture is getting clearer, many aspects of these processes are still poorly understood, starting from the timing and the modes of AMH dispersal. The main exit from Africa, through the Levant, has been dated around 56,000 years ago [10, 11]. However, morphologic [12, 13], archaeological [14], and genetic [13, 15–20] evidence suggest that part of the AMH population might have dispersed before that date, possibly by a Southern route into southern Asia through the horn of Africa and the Arab Peninsula.
Regardless of whether there was a single major expansion or two, several DNA studies clearly showed that genetic diversity tends to decrease [21, 22] and linkage disequilibrium to increase [23, 24] at increasing distances from Africa. This probably means that, as they came to occupy their current range, AMH went through a series of founder effects [25, 26]. These results offer an excellent set of predictions which we used in the present study to test whether current genomic diversity is better accounted for by processes involving a single major dispersal (hereafter: SD) or multiple major dispersals (hereafter: MD) from Africa.
One preliminary problem, however, is how to select the appropriate populations for informative comparisons. The details of the dispersal routes, and the relationships between fossils and contemporary populations, are all but established. Whereas Europeans are consistently regarded as largely derived from the most recent African exit in all relevant studies, opinions differ as for many aspects of the peopling of Asia [12–19], with many populations also experiencing complex demographic histories involving admixture, as suggested by both ancient [27] and modern [28–31] DNA evidence. To obtain insight into the past history of Eurasian populations, we analyzed genome-wide autosomal single nucleotide polymorphisms (SNPs) from 71 worldwide populations (Additional files 1 and 2). In what follows, a number of preliminary analyses allowed us to quantify the extent and the pattern of admixture and gene flow in our data, thus making it possible to identify a subset of Far Eastern populations which, under the MD model, may be regarded as largely deriving from the oldest expansion.
This way, we could tackle two questions, related, respectively, with the historical and geographical context of the dispersal process, namely (1) are separation times between non-African and African populations the same (as expected under SD), or is there evidence of a longer separation between Far Eastern and Africans than between Europeans and Africans (as expected under MD)? And (2) which geographical migration routes were followed by first humans outside Africa?
Discussion
Establishing whether genomic differences among populations are compatible with a single major expansion from Africa is crucial for reconstructing the set of migration processes leading to the human peopling of the Old World. Two difficult-to-disentangle factors, namely the effects of population sizes and of admixture after the main population split, complicate the exercise. Past population sizes are unknown, and are generally estimated from genetic diversity, under neutrality assumptions. However, genetic differences between populations are large if the populations long evolved independently, or if they had small effective sizes, or by any combination of these factors. To circumvent this problem, in this study we resorted to LD values to estimate long-term population sizes and separate their effect from that of population history. This way, we found that the populations at the extremes of the geographical range considered differ substantially in the timing of their separation from the East African populations. This difference is statistically significant, and we showed by simulation that it cannot possibly be reconciled with a model assuming a single major dispersal of all non-Africans (whether or not followed by a series of founder effects) through the classical northern route (as pointed by Pagani et al. [69]). The model we tested is necessarily simple and does not take into account potential admixture with archaic human forms. However, since the estimated degree of Neandertal ancestry is the same in all modern non-African populations [4], the inclusion of this event would only affect the absolute values of divergence times from Africa and not the ratio between them.
Conversely, two processes may actually have a potentially more serious confounding effect on these calculations; Denisovan admixture may inflate the estimated divergence times in the easternmost populations, and back migration from Europe into Africa may have the opposite effect upon the European populations. Removal of the SNPs identified as a potential Denisovan contribution to the modern genomes caused no substantial change in the results, and the analysis of f 3 statistics did not show any detectable impact of back migration to Africa upon the set of markers we considered. To exclude the possibility that a higher level of African ancestry in the European samples we considered (perhaps due to back migration into Africa from Southern Europe) is responsible for the observed pattern, we ran additional comparisons of divergence time distributions between sub-Saharan Africans and Europeans with different geographic origins. To do this, we analyzed Basque and English populations from the POPRES dataset [70] and the Finns from the 1000 Genomes Project [71]. The divergence times estimated for these populations are very close to those previously estimated for Europeans (data not shown); therefore, it does not seem that the presumably higher level of African admixture in southern than Northern Europeans may possibly account for our results. These findings show that our estimates reflect to a minimal extent, if any, the effects of potentially confounding factors related with interbreeding with Denisovans [60] or gene flow with other modern humans, after the African expansions.
As for admixture among modern populations after the split from Africa, which may certainly affect estimates of their divergence time [72], the demographic history of large sections of Asia is too complex and elusive to be addressed in a general study, such as this, without detailed modeling of each local process. However, we argue that the impact of modern admixture upon our results cannot be too strong, because geographically intermediate populations were excluded from the final analysis. This way, significant differences in time estimates were observed for populations (Europe, Caucasus, New Guinea, and Australia) showing a rather homogeneous genetic composition in the ADMIXTURE analysis, with most individual genotypes attributed to a single ancestral component (Fig. 3).
The method used in the present study allows us to safely rule out that fluctuations in long-term population sizes might have distorted our time estimates. Threefold differences in very ancient (e.g., >100,000 years ago; Additional file 7) population sizes may appear, at first sight, difficult to justify, because at that time all N e values should converge to a value representing the size of the common ancestral African population. However, a similar result was also obtained in the only previous study based on the same method [18] and interpreted as reflecting founder effects accompanying the dispersal from Africa. In turn, these phases of increased genetic drift may have increased LD and hence caused underestimation of N e in all non-Africans. However, the resulting distortion, if any, should have affected the absolute values of T, but not the relative timing of the Europeans' and Asians' separation from Africans, which is what this study is concerned with. Another possibility is that 100,000 or so years ago, the ancestors of current Eurasians were already genetically distinct from the ancestors of modern Africans (as proposed by [73, 74]). If so, the different N e estimates of the present study would not be a statistical artifact but would reflect actual differences between geographically isolated ancient populations. Incidentally, we note that McEvoy et al. [18] estimated very recent dates of separation from the African population (36,000 years ago for Europe, 44,000 years ago for East Asia). In the present study, based on a wider geographical coverage, we obtained older dates, better compatible with archaeological estimates [75].
Two independent analyses (by ADMIXTURE and TreeMix) suggest that the genotypes of most Central Asians reflect variable degrees of gene flow between populations which may have left Africa in different waves. As a result, the distribution of divergence times is essentially continuous, and hence, it would make no sense to try to classify Central Asian populations as derived from either the first or the second African exit under the model of multiple dispersals.
When we modeled population dispersal in space, the correlation between genetic and geographic distances was higher under the MD than under the SD model, but this difference was statistically insignificant (Table 2). This seems likely due to the fact that the three models being compared share several features, such as the same set of geographic/genetic distances for the European populations, which reduces the power of any test. However, the separation times previously estimated made us confident that the SD model is inconsistent with the data, and so what was really important at this stage was the comparison between the two MD models. The better fit of model 3 than of model 2 implies that the MD model works better if only part of the Asian genomic diversity is attributed to the earliest dispersal. A better fit of a MD than of a SD model was also observed in parallel analyses of cranial measures and of a much smaller genomic dataset [13], suggesting that our findings may indeed reflect a general pattern of human diversity.
The data we analyzed are probably affected, to an unknown but not negligible extent, by a bias due to the fact that most SNPs in the genotyping platforms were discovered in European populations; however, the approach we used to calculate N e and hence the separation time, through LD, is expected to be relatively unaffected by this kind of bias [18, 76]. At any rate, a likely effect of such a bias would be a spurious increase of the estimated differences between Europeans and the populations being compared with them, Africans in this case. Quite to the contrary, here, the Europeans appeared significantly closer to Africans than Australo-Melanesians, a result which therefore cannot be due to that kind of ascertainment bias. Moreover, our F ST estimates are comparable with those obtained by the last survey of the 1000 Genomes Project; when rare variants are excluded (MAF > 0.05) and for the populations of this study, the average F STs differ by less than 1 %. This means that we are not losing power considering a subset of SNPs and that the ascertainment bias did not substantially affect our estimates.
Can selection account, at least in part, for these findings? In principle, we have no way to rule this out. However, in practice, even though positive selection may have extensively affected the human genome, large allele frequency shifts at individual loci are surprisingly rare [
77
], so much so that so far only for very few SNPs any effects of selection have been demonstrated [
78
]. If we also consider that genomic regions with large allele frequency differences are not generally associated with high levels of LD, in contrast with what would be expected after a selective sweep [
77
,
79
], it seems fair to conclude that the main allele frequency shifts occurred in a rather remote past and are unlikely to reflect geographic differences in the selection regimes [
80
]. In any case, only 8 % of the SNPs were considered map within expressed loci, or in their control regions (Fig.
5
); therefore, the impact of selection upon the results of this study, if any, can hardly be regarded as substantial.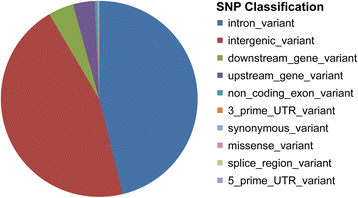 Conclusions
Analyses of genomic data based on different sets of assumptions and different methods agree in indicating that (i) a model with a single early dispersal from Africa fails to account for one crucial aspect of human genome diversity, the distribution of divergence times from Africa, and (ii) within the model of multiple dispersal, geographical patterns of genome diversity are more accurately predicted assuming that not all Asian and New Guinean/Australian populations have had the same evolutionary history (question 1 of the "Background" section). Conversely, we could not show a significant difference in the fit of the geographical models we tested; although we can confidently rule out the hypothesis of a single dispersal, establishing that the exact migrational routes from Africa into Asia will require further efforts (question 2 of the "Background" section).
In the light of these results, we propose that at least two major dispersal phenomena from Africa led to the peopling of Eurasia and Australo-Melanesia. These phenomena seem clearly distinct both in their timing and in their geographical scope.
The view whereby only part of the ancestors of current non-African populations dispersed through the Levant has some non-trivial consequences upon the possible interactions between AMH and archaic forms, traces of whose genomes have been identified in many non-African populations, including New Guineans [4, 81]. The estimated contribution of Neandertals is less in the European than in the Asian/Melanesian genomes, despite the long coexistence between Neandertals and Europeans [82]. At present, the standard way to explain this finding is to assume one single, major episode of hybridization in Palestine (or perhaps further north and east [83]) 47K to 65K years ago [58], followed by a split between the Europeans' ancestors on the one hand and the Asians' and Oceanians' on the other [83, 84]. After that, additional contacts might have occurred but only between Neandertals and Asians [85]. However, if most ancestors of New Guineans dispersed through a Southern route, as this study shows, they would have missed by 2000 km or so the nearest documented Neandertals with whom they could have intercrossed. Thus, this study raises the possibility that the current patterns of human diversity need more complex models to be fully explained. One possibility is that admixture with Neandertals might have occurred before AMH left Africa [86]. Another is that common ancestry, rather than hybridization, may account for the excess similarity of Eurasians with Neandertals, in the presence of an ancient structuring of populations [74, 87]. A third possibility is that the apparent traces of Neandertal hybridization in Papua New Guinea may in fact be due to Denisovan admixture. We are not in a position to actually test for these possibilities, but exploring these hypotheses may contribute to a better understanding of the main human dispersal processes and of the relationships between archaic and modern human forms.
Abbreviations
AMH:

anatomically modern humans
BIC:

Bayesian information criterion
cM:

CentiMorgan
DAPC:

Discriminant Analysis of Principal Components
IBD:

identity by descent
LD:

linkage disequilibrium
MAF:

minor allele frequency
MD:

multiple dispersals
PC:

principal component
rv:

resistance value
SD:

single dispersal
SNP:

single nucleotide polymorphism
Declarations
Acknowledgements
This study was supported by the European Research Council ERC-2011-AdG_295733 grant (LanGeLin) and in part by a grant of the Italian Ministry for Research and Universities (MIUR) PRIN 2010–2011. We are indebted to Maria Teresa Vizzari for technical help and to Andrea Benazzo, Cesare de Filippo, Johannes Krause, and three anonymous reviewers for suggestions and critical discussion of this manuscript. DbGap accession number for the POPRES database is phs000145.v1.p1.
Open Access This article is distributed under the terms of the Creative Commons Attribution 4.0 International License (http://creativecommons.org/licenses/by/4.0/), which permits unrestricted use, distribution, and reproduction in any medium, provided you give appropriate credit to the original author(s) and the source, provide a link to the Creative Commons license, and indicate if changes were made. The Creative Commons Public Domain Dedication waiver (http://creativecommons.org/publicdomain/zero/1.0/) applies to the data made available in this article, unless otherwise stated.
Authors' Affiliations
(1)
Department of Life Sciences and Biotechnologies, University of Ferrara, Ferrara, Italy
(2)
Institute for Maternal and Child Health—IRCCS "BurloGarofolo", University of Trieste, Trieste, Italy
(3)
Present Address: Leibniz Institute for Zoo and Wildlife Research, Berlin, Germany